I have this horribe disease
its called....
'Poor girl wants Marc Jacob bag'
lol! ooh god!
But theres always replicas right, and where i live people dont even know who Marc Jacobs is never mind work out if im carrying a replica or not!
Ive finally reached the I want a quilted bag stage... and i know its old but i keep being draged to the Marc Jacobs stam bag... in Navy because I love navy right know. Thats the replica its still real leather and
$150
im probably going to get it... what you think? maybe another colour?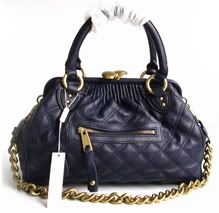 Brokeback Moutain - Ennis Del Mar
I always said I wouldn't watch Brokeback Mountain, I'm not the kind of person who finds gay relationships comfortable to watch (sorry that's just me) so I didnt watch it no matter how fantastic the reveiws were. But the day after Heath Ledger died a movie channel played a tribute night and Brokeback mountain was starting so me and my friend decided to watch, kind of out of respect as it was his most awarding film.
I want to talk about the effects & emotions this film gives us, I have read alot of blogs saying it changed there lives.
Why and how?
This film has deffently effected me else I wouldn't be blogging about it.
My emotions were so mixed and confused. I wanted to be upset for Ennis Del Mar and I felt like I should have been but I just wasn't, maybe because I personly find the relationship arkward or because I see the bad in him and think of Alma. Alot of my emotions were for Alma. I didnt have many feelings towards Jack Twist I thought he was abit naive and less complex than Ennis. I think Jack was actually gay and in denial were as Ennis was totally confused, Ive read somewhere that Ennis is actually bi sexual but more on the straight side... and he would have never even thought about being gay unless he had met Jack.
Everything Heath Ledger did in this film was amazing, the tone of his voice, his attitude, his accent, even the way he holds himself. I adored the aging process in this film. I think Jake n Heath used great sutle ways to show aging.
I was also impressed with Anne Hathaway, her last scene when she's talking to Ennis is so
arkward and gritty it was great (although I was shocked when the Princess got her boobs out lmao)
I found myself watching this film again with more concentration but I just don't get why this film has effected me so much? So I wanted to ask you? Was it the love story? Would you have felt the same if it was a hetrosexual relationship an there was a reason for them not being able to be togetherOr was it the fact they were men? Did it change your feeling towards male relationships? or was it something totally different
Sorry I really am not homophobic lmao even if this post makes out like I am!

Oh and im sorry about the swearing at the start of my video! one of my fav scenes ever!