Mitch Hewer
He plays a gay teenager in the hit UK teenage drama Skins.
Lets not talk about the acting side of things because to be honest... he's not the best of actors!
I think the Skins people have done a great thing making him a main character because
he's so hot this series, he's defiantly been trying hard at the gym... a bit to much on the
sun bed but I think that's for his character.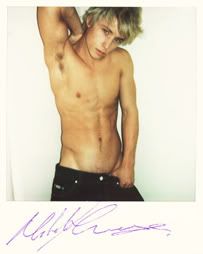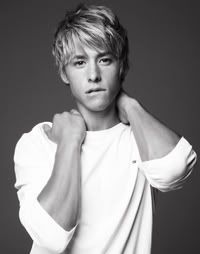 I wanted to talk about his character Maxie Oliver's fashion, its kinda bad that the Skins people have stereotyped the gay to have a good sense of fashion lol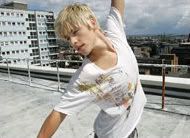 I love the brown and pink stripe top with the shirt, the middle one he wore to a rave/party and he was all in white and looked a bit over stylish but acceptable. There's only been one episode of the second series... episode 2 is on tonight so looking forward to seeing Maxie's outfits lol.
After all that I thought i'd blog about some guy fashion... what I like in a guy. To be honest I don't think I could date a guy who was totally fashion forward just someone who knows what looks nice and cares about what they look like. I think for me he has to wear good denim. If I don't like a guys jeans... haha. I don't like skinnys much but straights good and occasionally some guys really make baggy look good, but they have to be well made and maybe a bit of detail. I think with guys jeans its really easy to make them look cheap.



I love those 3 pairs... I know there all quite similar, I don't like dark jeans much. Only if there skinny. I love the 3rd photo whole outfit... nice and simple. These jeans are by Diesel & Lee.
Anyway...
I'm totally loving these metallic bomber jackets
Vanessa Hudgens
has been wearing.
I really like the gold... hoping to get one while I'm in New York... anyone know
any good shops that sell them apart from Urban Outfitters & American Apparel
where I could buy something like these?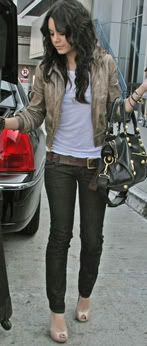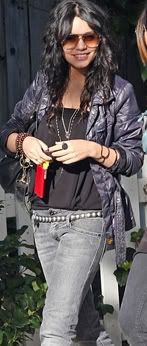 Thanks for everyone's lovely comments on my hair... I've got used to it now and
I like it :)