(Click all images to enlarge) Today Im gonna talk about my fashion, films and photography. No moaning all ranting no matter how stressfull college was today :)
Film
I sat down and watched
Atonement
, yeah it was a great film but, although i apriciate oscar nominated films such as this and Brokeback Moutain, the fantastic acting that touches & effects some people I just cannot call them my favourite films. I enjoy films with abit more action and abit more comedy, thats why Im backing Sweeney Todd and Juno this year. Although the costumes in Atonement deffinatly impressed me, but I'm not referring to that beautiful green dress that
Keria Knightley
wears so well, some of Briony's (Saoirse Ronan was fantastic) and Cecillia's outfits in the earlier part of the film i thought were also great!
Fashion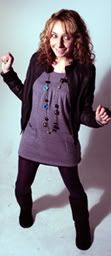 Now... i love fashion and I know everyone says that but i think everyone does? Or maybe I don't love fashion, maybe i just want to look my best. My life is probably revolved around clothes. I'm not an extravagant person when it comes to fashion I try to keep it single but lovely. I know this might sound abit odd as there a hundreds of other fantastic fashion idols but id say
Vanessa Hudgens
(High School Musical) deffinately inspires me! Ill link to some of my fav outfits worn by her. Heres an outfit i wore to college once, i guess this is me being quite daring wearing a dress and purple tights (Click to see better) I havent taken any pics to actually show my outfits but here are some others that you can see abit.

Today I displayed my montages on the wall for the verifyer tomorrow! Heres a pic of my display (
click
)
Let me know what you think