Me & my mom did abit of pre shopping today lol... shopping for shopping! I haven't been shopping for ages like since before xmas because im saving for new york but my mom needed some comfortable boots to walk round NY in and I was after some ankle boots...
I ended up buying cowboyish black boots... I was never into the whole cowboy boots craze/trend but these boots actually looked cute on me. They were from quite a crapy shop but i was desperate so i went in and looked they were just £12. but that wasn't my bargin of the day! My mate works in a shoe shop here called Lilly and Skinners (i think) not really a fashionable shop just practical, but its closing down so there having 'Buy one get one free' and my mate said there was some cool stuff so i should take a look...
My mom found some nice plain boots in there so she told me to have alook around see if there was anything I liked because they would be free... & I found these: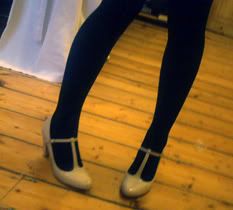 There a nude colour with a shine and quite a thick heel... I absolutly love them! and i love them so much better the fact they cost me (or my mother lol) nothing! I don't really have anything to wear with them right now.
Anyway heres me experimenting with my new dresses :)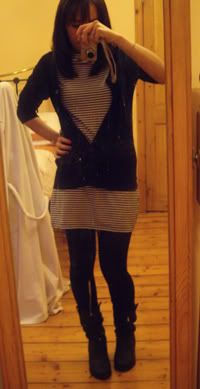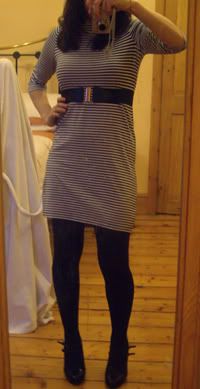 This is the one im planning on wearing for my birthday meal...one with my new boots and one my heels and my black cardigan. I also tried it with my leather jacket
click to see that.
It looks nice with my black wasit coat to. These 2 photos don't really make it look great but I do love it :) Im crap at taking photos in the mirror (my dirty mirror lol)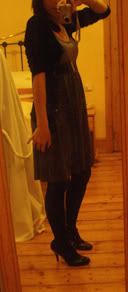 I quite like this dress now... it was the £6 one, i added the black belt and a cardigan... I tried it with my new boots to. Any thoughts?
Oh one more thing! Thanks everyone for your help with my photography project. Ive lead to this photo...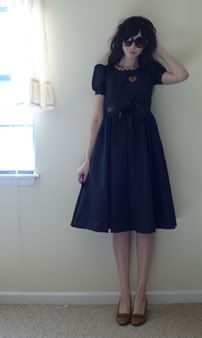 I really love it, and im good with adobe, so ill be able to edit the dress.
A fashion blogger is selling that dress on ebay... and its really cheap so I thought id by that an use it for my photoshoot... I might do a self portrait as the dress is my size... and my hair is that colour right now... & I dont know wear id find a model lol!