I haven't planned to blog about anything so I'll just start and see where it goes =] Ooo so I'm saving up for this Navy Mac/trench... What do u think... I no summers coming and soon the colour will be out of season but truely here in England its never actually hot so I need a light coat like this and Navy is just my colour! The sleeves are removable aswell...What you think?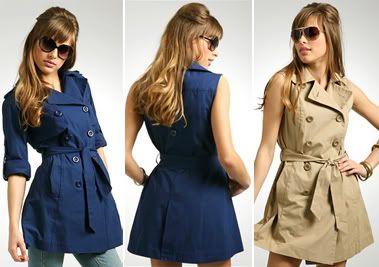 You all know by now that Jake Gyllenhaal is like perfect in my opinion but recently ivefellin love with Pen Badgley... Aka Dan Humphrey from Gossip Girl... He's just beautiful! One thing you'll come to know about me... I'm celebrity addict I just love celebs in general so I go through phrases.

Alot of people couldn't understand why I gave Cruel intentions a C+... What's wrong with that? Its a good score! I thought it was a good film! but its missing the amazing acting and amazing story line its just good and entertaining if I gave cruel intentions an A what kind of score would I give films like Brokeback Mountain and Sweeney Todd you no what I mean =] although I gave Jesse James a higher score I actually prefered Cruel Intentions! But had to give it a B+ cus of the amazing acting and story line =] glad I cleared that up haha!
University
I've been reading alot about everyone getting into Universities and Colleges, Im moving out and going to Uni in October! not long really... quite scary! Im only moving about an hour east of where I live now so its okay! Im going to Nottingham Trent University to study the Italian Language and Media Studies =] Im so exciting... Im currently attending a night course for Italian so Im quite good... and my mom being Italian and all Im familiar with the language and it would be a dream come true to finally learn it... my course includes a year in Italy so that would be fantastic =] I was planning on studying film studies at university but Nottingham Trent was the only university which let me study Italian + another subject so after thinking about it Media studies is probably better... also after my first year I can specialise in film and TValso i could choose public relations and popular culture.
So in 5 years time ill have a Nation Diploma in Photography and degree in media studies & Italian and hopefully will be able to get a good job in the Media, also considering doing a a postgraduate corse in Hollywood culture and film which would be amazing also id like to study american studies... haha god I want to study everything!!
By the way... remember I'm reading Jarhead... Im loving it.x