So my friend took me vintage shopping :) Although I hardly bought anything, i was quite impressed... there was a huge vintage shop and thrift market, i found most things were to big but i found this pink and white tye dye top, I haven't worn pink and white so I wasn't sure about it, but it was just £4! and no doubt it will look great with some shorts in the summer! Its my first tye dye buy! haha i'm not a big fan of the trend and the only items I like are simple with not such a big pattern so this was perfect! I also wasn't sure about the gypsy type ruffled sleeves... but recently I have noticed more tops like this in the shops... god I wore 100s of gypsy tops when I was like 10! haha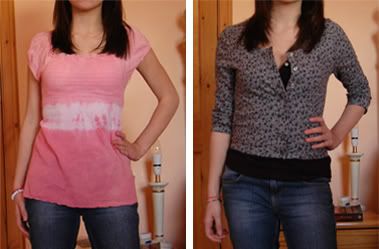 The second isn't thrifted lol! Its £9.99 from H&M and I love the grey/black/navy floral pattern on it.. but it doesn't fit right at all... something i've noticed with H&M cardigans, they only look good if you button them up and they seem to have like a gap for big boobs! Which is unneeded in my case!
The Assassination of Jesse James
I watched this film last night because after seeing Casey Afleck's nomination clip at the Oscars I thought he looked quite impressive... plus Brad Pitt is always good! :) Being a 2 and a half hour film its natural for me to get a bit bored an confused after the first half, I think the hardest part was working out who was who and stuff.. but I always kind of knew what was going on which was a good thing... not so confusing. I think some of the film was unnecessary and just confused me lol but i'd say the last hour was fantastic! I mean... nothing amazingly shocking happened at the end... it just generally a great ending! & I think Casey Affleck was amazing! I'm going to start rating films so id give this a
B+
Cruel Intentions
yeah its and old film but one I've always wanted to watch because I love Reese Witherspoon and Ryan Phillipe is amazingly hot! I thought it was good... in some ways weird... i know that they are just step brother and sister I just still think there relationship was weird lol... and one minute Sebastian is a total jerk 2 seconds later he's in love and nice n sweet!... that part confused me lol apart from that i really enjoyed the film!  
C+
I know I gave Jesse James a better rating than Cruel Intentions... i probably wont ever watch Jesse James again but then id like to watch Cruel Intentions again... if that makes sense.
Oh and Im going to read a
book
 I
always
try and read books but I never finish them... unless there autobiographys... i love them lol. Well Ive just orderd
Jarhead
a story of a marine in the gulf war, Im not a big fan of war films... so on but I enjoyed the film so much I wanted to find out more... anyone else read it?