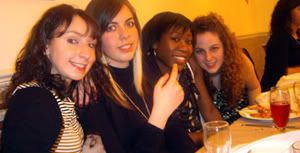 Do you ever buy clothes and love them in the shop... But when you get home and u put them on again u really wish you hadn't spent your money? No no no I'm not moaning I had a FANTASTIC time in New York, me and my mom got on great the whole weekend (wen I was younger we used to argue quite alot) but I was just trying on some of my clothes making some outfits and realised 1 top is 2 tight and others just arnt good lol!
I spent nearly all of my money.. I received $950 (around £450) for my birthdaay... To me that's a hell of alot of money... My family arnt exactly rich. I loved new York it was great! I was there 4 days and shopped nearly every day and did some site seeing as we shopped through! American eagle & forever 21 really impressed me, some great things for ridiculously low prices! But I spent most my money in abercrombie.. I was abit disapponted... The place always makes me feel intimerdated but wasn't as bad as the one in London.. Also they didnt have my size in some jeans I wanted which I didnt think would happen... the shop smells so beautiful!! & now all my new clothes smell like it to! haha but i think its a guys colonge.
After trying everything on I noticed most of my buys were very college boyish... Like I brought some light wash destroyed bootleg jeans... Converse! I got a bomber jacket kinda thing in navy which is like rain coat and my brother thought it was his when he saw it! Was all basic stuff really nothing girls or really fashionable... but I like it... Ive desided to stop worrying about what people think of my clothes and as long as I like it it shouldn't matter... And I know everyone says that... But its a really hard thing to do!
Ill post some outfits tomorrow!
I loved Central Park so much it was so amazing! A man on a bike and cart thing gave us a tour and it was so good he told us everything we ever needed to know about New York lol.
oh and that top photo is me and a few mates at my birthday meal... i know i look disgusting... but my outfit was nice. I didnt really try with my hair and makeup... i thought it was just a small family meal but my mom invited loadsa people including a guy i've loved for years family so I got totally nervous and hot and bothered so I ended up just downing as many shots as possible taking advantage of being 18 to make things easier :)