Heyy again everyone...
hope everyones okay, sorry i havent had time to reply to everyones comments since ive been back I will do now :) also everyone who I have asked to exchange links and I havent yet done so... I will ive just been abit busy!
Anyway here are some of the clothes I bought in New York that I was telling you about... sorry about the photos I cant take photos of my self very good lol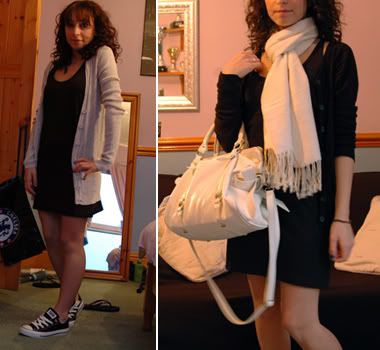 This is a plain black dress i bought from American Apparel, I really love it one of my fav buys, its going to be great in the summer and i can totally wear it differently... in the first photo im wearing the dress with (my new) converse but I would more likely wear them this with sandals or flip flops.
(Very Vanessa Hudgens inspired)
In the first photo im wearing some black skinny trousers in like a nice silky material from urban outfitters.... i like them but I already own black skinny jeans so maybe I could have spent my money on something else. The cute white top is from American Eagle & I added a cool black broch a friend bought me for my birthday. In the second photo just the top and jacket are new... thats the bomber jacket I was trying to explain in my last post... from Forever 21. The 3rd photo is my interpitation of a abercrombie and fitch sales girl haha! nah something casual for college.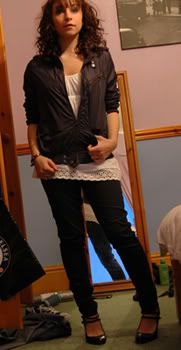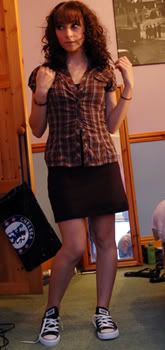 Second image is that black dress from first outfit but I was messing about playing dress up and I put this top over my dress and thought it looked quite cool... probably wont wear it but haha.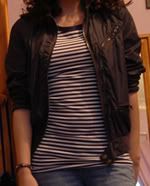 Heres another close up of my jacket... ive changed the settings on my camera so it looks different on the photos... but its a navy blue in a rain coat kind of material but i love all the detail like the zips and buckles and stuff so i love it... what do you think?
One more thing before I go.... I also bought this skirt, i have no idea how or when I can ever wear this but it was so cute and just $24 from Forever 21 so I couldn't resist... when I wear it, it kinda goes like a tulip skirt... it has a beautiful pattern on it which you can kind of see in the second photo... it fits on my wasit so its kinda high waisted... please give me your ideas on how I could wear this!
Fantastic!!