Glad you all loved my Men Awards! lol
Remember that skirt I keep talking about? heres what I came up with: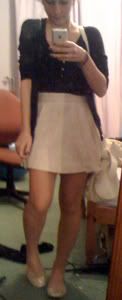 (messy room haha)

I love it, but I could never wear this around my town in the summer... I live in a small town in the midlands and well... its not a very fashion forward place so they would all think I was totally mad! But im sure ill wear it in the summer as im spending my summer in Italy.
I went to some club in my town last night (Thursday), Im 18 now and I dont have to worry about being kicked out or getting IDed so it great!! (in the UK you have to be 18 to drink haha) I really didn't no what to wear as I totally didn't want to look chavy and I always want to be abit different and most people wear kind of the same stuff in my town so its not hard! This is what I wore in the end lol!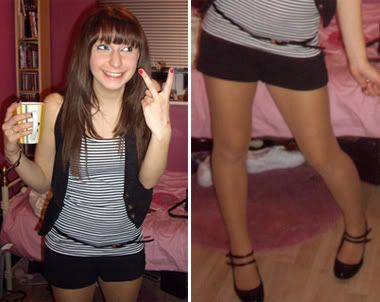 haha sorry that theres a big pic of my theighs lmao its the only pic i have with the shoes i wore in and it was like a mistake shot haha I haven't done up the waist coat in that pic but it looks better done up its like a really tight one
So... my mom got me tickets to this thing called 'Total film Red carpet preveiw' (
website
) on the leaflet it told me that
'you will be shown unseen 100% exclusive clips of 2008s most aticipated films including Indiana Jones and The Dark Knight
' and I thought great... cus the tickets were actually free, might aswell go down. They also mentioned stalls from various film companys and a goody bag so why not! So i was exspecting lots of Shia Labeouf and Heath Ledger lol so I was way excited...
to my disapointment it was just 80 minutes trailers and the occasional few words from Simon Pegg who I just dont find funny at all!! I was so pissed off lmao! i wanted to see some more clips from the Dark knight and indiana jones but nooo they just showed me the trailers which I have actually seen on Sky Movies recently anyway! and and they even showed the trailer to a film I had watched last week!! After all the trailers were over there was an interval and they were going to put a film on called 'The Waiting Room' they tried to bribe us with 'This film is so new it doesn't even have a release date!!' to me this gave the impression it was going to be shit because they would never show a great movie early lol so we went home at the interval (it was 10pm already) argh really annoyed me! My mom was like.. maybe youtube doesn't count!
Youtube always counts! haha